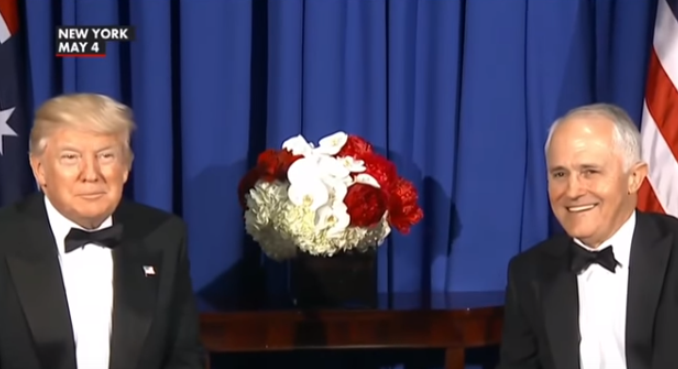 World is laughing at Trump starting with Australian PM mocking performance at yearly ball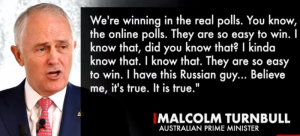 World is laughing at Trump starting with Australian PM mocking performance at yearly ball. America has never before been ridiculed and mocked as it is now.  Donald Trump has succeed in making America the laughing stock of the world.
Australian Prime Minister mocks Trump
The Australian Prime Minister Malcolm Turnbull mocked Trump at a yearly function they call the Ball.  It is similar to the Correspondence dinner held yearly in America.  The dinner in America sees lots of tongue in cheek speeches poking fun at one another.  It would seem a similar thing happens at the Ball.  However, what is different about this and that other countries are now making fun of the American President.  This has never happened in world history before.
Other countries have lost all respect for America
It seems that while all other countries have lost for America, they now fear us because they all think that Donald Trump is a few cards short of a full deck.  He is compared to the North Korean leader more often than not.  This is a world wide happening and it is getting worse as the days in the Trump presidency tick forward.
Trump investigated for possible Obstruction
Now that the word that Trump is being investigated for possible Obstruction of Justice things will only get worse.  Trump is viewed as a lawless being that does not live by any of the rules that were set to protect democracy.
Prime Ministers Mocking Performance
While the Prime Ministers performance can be seen as extremely disrespectful, it is also quite spot on to how Donald Trump thinks and speaks. It is apparent that he will go down in the history books as America's biggest joke and embarrassment.  This is a sad sad time in America and will be deemed, "that time America lost its way."
In conclusion
It is time for the Special Prosecutor to get this investigation done quickly and precisely.  The republicans must take responsibility for their actions and come together for the country when proof is presented warranting impeachment.  If you have not seen this video of the Prime Minister, watch it here.
---
EXTRA CASH

Most Noteworthy: Are you always looking for ways to make extra cash? Here is a way that is fun.  You can do it while watching TV.  Take surveys with Mint Vine.  They will deposit money right into your PayPal account.  To try it, click the link.  https://mintvine.com/users/register/5266f23a8ec2a448530101
Disclaimer:  Everything written in this publication is the opinions of the writer and not that of the sponsors, advertisers or this publication.