This may explain Trumps lack of action and today's Tweets
Donald Trump has a personal and professional vendetta against Puerto Rico
Many American's sit shocked as they hear about or read for themselves the heartless tweets.  Today Trump sits in a golf cart sipping cold beverages while Americans die in Puerto Rico.  That is simply the truth of what is happening today.  This article explains why the Daily Banner thinks Donald Trump has a personal and professional vendetta against Puerto Rico
The Mayor of San Juan, who was very complimentary only a few days ago, has now been told by the Democrats that you must be nasty to Trump.

— Donald J. Trump (@realDonaldTrump) September 30, 2017
…Such poor leadership ability by the Mayor of San Juan, and others in Puerto Rico, who are not able to get their workers to help. They….

— Donald J. Trump (@realDonaldTrump) September 30, 2017
…want everything to be done for them when it should be a community effort. 10,000 Federal workers now on Island doing a fantastic job.

— Donald J. Trump (@realDonaldTrump) September 30, 2017
What does he have against Puerto Rico?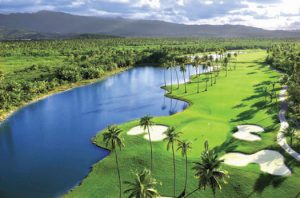 In 2015, the Country Club that carried the name of Trump filed for bankruptcy. The other day Trump said he would send help to Puerto Rico and in the same breath said Puerto Rico has financial problems.  That is like throwing in the face of a dying patient that they still owe the doctor money.
Donald Trump has the reputation of getting even with people, places and things that have embarrassed him. Is this lack of empathy for Puerto Rico represent "get even time?"
What happened in Puerto Rico in 2015 that pissed Trump off?
Here is what happened and how it pissed off and embarrassed Trump. This was the toasting and bragging when the deal was being made.
Trump International Golf Club & Residences, Puerto Rico will be a $600 million development. It will be situated on a 1,000-acre enclave of waterfront located in the city of Rio Grande, just 15 miles (30 minutes) from San Juan and 10 miles (20 minutes) from the airport.
THEN 8 YEARS LATER THIS HAPPENED
The Trump International Golf Club Puerto Rico, which bears the name of Republican presidential candidate Donald Trump, filed for bankruptcy protection Monday, court documents show.
Owned by developer Empresas Diaz, the club uses the Trump name under a licensing agreement. Donald Trump does not own the club.
"We merely licensed our name for a fee and have nothing to do with the ownership, development or entity," Eric Trump, executive vice president of The Trump Organization and son of Donald Trump, said in a statement.
In Conclusion
The Daily Banner has to wonder if this is one of the reason Donald Trump did not jump into swift action to help Puerto Rico?  He moved swiftly to help Texas and Florida.  It is sad to think that he had to be reminded several times by many that Puerto Rican's are also Americans.
---