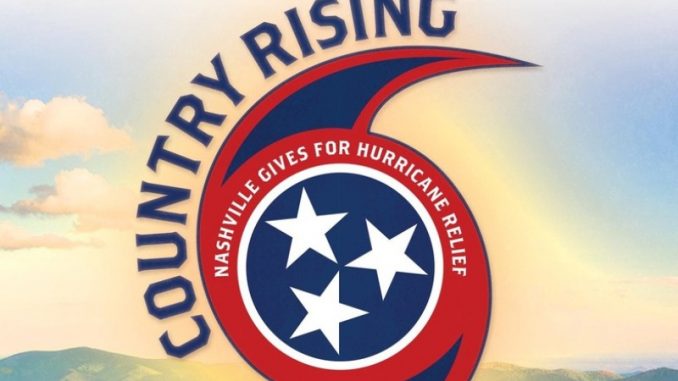 COUNTRY RISING: NASHVILLE GIVES FOR HURRICANE RELIEF ANNOUNCED
Huge Country Music Concert in Nashville for Hurricane Relief happening November 12th, at Bridgestone Arena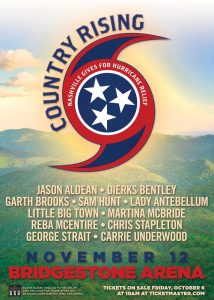 First of all, there will be a Huge Country Music Concert in Nashville for Hurricane Relief . Nashville's Biggest Superstars including Jason Aldean, Dierks Bentley, Garth Brooks, Sam Hunt, and Lady Antebellum. Also, Little Big Town, Martina McBride, Reba McEntire, Chris Stapleton,
George Strait and Carrie Underwood unite for Benefit Concert. That is the current lineup for the Huge Country Music Concert in Nashville for Hurricane Relief.
Tickets Go On Sale Next Friday, Oct. 6 at 10:00 A.M. CT
Country Music's biggest stars have rallied to announce plans for COUNTRY RISING.   This is a benefit concert to support those in Texas, Florida, Puerto Rico.  In addition, this will help all islands that have been impacted by the recent hurricanes.  Read more about the huge Country Music Concert in Nashville for Hurricane Relief
Stars performing November 12th, 2017
Tickets and VIP packages for the event go on sale next Friday. Sale date is  October 6, 2017 at 10:00 a.m. on Ticketmaster.com. Also, additional artists and more details will be announced over the coming weeks at CountryRising.org. 
COMING TOGETHER
The Nashville music community has stepped on board. AEG and Live Nation have teamed up as the official show promoters working alongside organizer Red Light Management, Bridgestone Arena and the Nashville Predators. COUNTRY RISING will benefit The Country Rising Fund of The Community Foundation of Middle Tennessee.  This organization was established to support charitable initiatives to help victims of the September 2017 hurricanes. There are immediate needs and long-term needs. This fund will strategically support both as they emerge.
About The Community Foundation of Middle Tennessee
In Conclusion
The Community Foundation exists to promote  giving in the 40 counties of Middle Tennessee and beyond. It does this by accepting gifts of any size from anyone at any time. This empowers individuals, families, companies, nonprofits, and communities to respond to needs and opportunities that matter. In addition, the Community Foundation works with people who have great hearts.  They craft solutions that reflect their intentions and goals. For more information, call 615-321-4939 or visit www.cfmt.org.
---
EARN EXTRA CASH FROM HOME!
Disclaimer:  Everything written in this publication is the opinions of the writer and not that of the sponsors, advertisers or this publication.