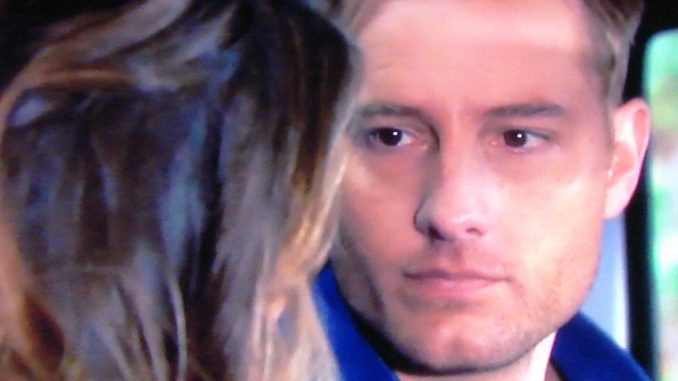 Justin Hartley Young and Restless Goodbye
Justin Hartley Young and Restless goodbye  viewers with what he is calling a Thank You letter. While there has been weeks of speculation about whether or not Hartley would be coming or going the below letter clears up that speculation.  Unfortunately it confirms most of the viewers fears that this would be the last time the fans would see Justin portraying Adam Newman on Young and Restless.  Below is the letter he posted on his social media.
Justin Hartley Young and Restless Goodbye to the fans
To the wonderful fans of Y&R,
After many weeks of having to keep quiet in order not to spoil storylines for all of you, the time has finally come that I'm able to write you this letter. Although I am saying goodbye to Y&R, this is not a goodbye letter. I felt it was more important to write a thank you note. Each and every one of you helped make my time on the show enjoyable. I always loved hearing about how excited all of you were for certain characters, how disgusted you were with others, at times even mine, or how we were able to help you escape from a hectic day. You are some of the most loyal and dedicated fans I've ever encountered. You are truly the heart of the show. It simply does not work without you. I wanted to thank you for that. Thank you for tuning in; thank you for letting me entertain you; thanks for entertaining me, and thank you for caring.
Although I'm leaving the show, you haven't gotten rid of me. Hahaha…not so fast. I'm beyond thrilled and proud of my new series, This Is Us. We have a sensational cast and crew, wonderful writing and I would be honored to have you all tune in and watch. Here is a preview of what's to come on This Is Us, premiering September 20th on NBC.
I'll see you beauties in a couple of weeks!
Justin
Justin Hartley Young and Restless Goodbye song
Here is a song for the characters of Adam and Chelsea!!  This song is now a perfect match for what the characters on the Young and Restless went through as Justin Hartley Young and Restless Goodbye has arrived.  Goodbye Justin and good luck on your new Prime Time show.
You can see that final episode by clicking here.
VALLEY VIEW
Get a sneak peek at what is happening at Valley View:   If you do like romance and intrigue, ENJOY!!
A Grandparents Prayer
This Grandma is trying to get her daughter and granddaughters moved back to America from Australia but it is going to take a miracle and more.  You can help by simply clicking this YouTube link and watching the Music Video and then sharing it on your own Facebook page.  It won't cost you a dime and it will only take a few seconds.  Share Grandma and Papa's prayer.
EXTRA CASH
Are you always looking for ways to make extra cash?Here is a way to make some extra cash that is legitimate and fun and you can do it while watching TV.  You can take surveys with this company MintVine and they will deposit money right into your PayPal account.  If you would like to try it, click this referral link. https://mintvine.com/users/register/5266f23a8ec2a448530101
Writer Donna Nolan-Wilson has spent over 40 years living, loving and writing. Like her on Facebook
Disclaimer:  Everything I write in this publication is my feelings and opinions and not that of the soap, the sponsors or this publication.