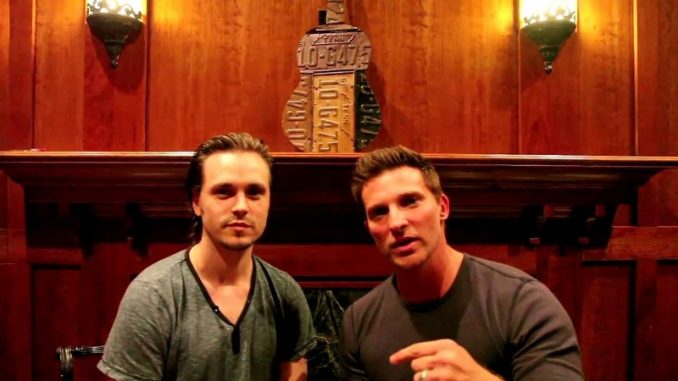 Steve Burton announces upcoming plans
Steve Burton announces upcoming plans in Tennessee at his co-owned restaurant. In addition Burton's offering up Q & A sessions at his restaurant.  He has invited another former cast mate from General Hospital to join him.
Q & A with Burton and Bradford  
First of all, the restaurant Jack & Jameson's Smokehouse just celebrated its grand opening this past weekend. Additionally, on November 5, 2016, there will be a special event Q & A with Steve Burton.  That event will also include the whimsical Bradford Anderson (Damien Spinelli) from General Hospital.
Karaoke Spinelli Style
What's interesting to note is that Bradford Anderson is presenting Karaoke.  This has been announced on the restaurants Facebook page.  These guys are great friends and maybe they are helping each other out. Most noteworthy is Karaoke is happening shortly after the Q & A session.

Leaving Young and Restless 
Especially relevant, Burton tweeted he is leaving Young and Restless.  His contract ends in December. Consequently it seems he is putting his ambitions into the restaurant. As a result it looks like he is employing former cast mates from General Hospital.  Bradford Anderson is currently on recurring status on the soap.  Seems like Burton is looking out for him.
Focusing on Music
Steve Burton and Jonathan Jackson are both following musical dreams.  They both live in the Nashville area.  Jackson is currently filming the nigh time drama "Nashville." Burton is finishing out his time with Y &R and focusing on his music, his band Port Chuck, his restaurant and family. There is no confirmation that he is returning to Port Charles/General Hospital.
Information regarding Jack and Jameson's Smokehouse
In conclusion, the restaurant is located at 509 Hillsboro Road, Franklin, Tennessee. Jack and Jameson's Smokehouse delivers southern comfort food & draft beer served in country-style digs.  Live Entertainment is featured regularly. For more information or reservations, call 615-465-6253.  Tickets for the event can be purchased here.
VALLEY VIEW
Get a sneak peek at what is happening at Valley View:    If you like romance and intrigue, this is the place for you ENJOY!!
EXTRA CASH

Most noteworthy if you are looking for ways to make extra cash? A way to make extra cash that is fun.  Do it while watching TV. Take surveys with Mint Vine.  They will deposit money into your PayPal account.  To try it out, click the link below.
https://mintvine.com/users/register/5266f23a8ec2a448530101
Disclaimer:  Everything written in this publication is the opinions of the writer and not that of the soap, the sponsors or this publication.