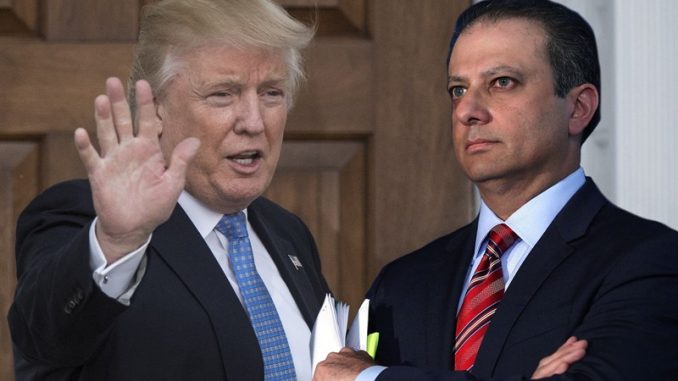 Preet Bharara debuted on CNN this morning
Preet Bharara joined the team of Senior Analysts on CNN today. Many people may recall that Preet Bharara was the lawyer who Trump fired early on in his administration.  That firing came after a promise of a job during the Trump transition when Preet made it clear he wouldn't be Trumps puppet. Preet Bharara debuted on CNN this morning and let his feelings be known. Preet also knows a crook and a conman when he comes in contact with one.  Read his qualifications below.
About Preet Bharara
From Wikipedia: Bharara is an American lawyer who served as U.S. Attorney for the Southern District of New York from 2009 to 2017. As U.S. Attorney, Bharara earned a reputation of a "crusader" prosecutor. According to the New York Times, during his tenure he was one of "the nation's most aggressive and outspoken prosecutors of public corruption and Wall Street crime."
Aggressive Prosecutor for New York
Furthermore, Bharara as New York State Attorney prosecuted nearly 100 Wall Street executives for insider trading. He reached historic settlements and fines with the four largest banks in the United States. As a result, Preet closed multi billion-dollar hedge funds for activities including insider trading.
Fighting Terrorism
First of all, Under Bharara the U.S. Attorney's office was also known for its terrorism prosecutions and civil rights cases. Also, Bharara's office had international reach, pursuing defendants located in many countries outside the United States.
Preet Bharara joined the team of Senior Analysts on CNN today
In Conclusion
In addition, in March 11, 2017, Bharara was fired after he refused to resign.  Attorney General Jeff Session requested all 46 US Attorneys appointed by Obama resign. Hence, it had become apparent to the Trump Administration that Bharara would continue his vigorous quest for truth and justice.  As recent history coming from the White House dictates, that won't work for Trump. On April 1, 2017, Bharara joined the NYU School of Law faculty as a Distinguished Scholar in Residence.
This country could use a little more love for each other right now.  Share this song with someone you love today!!
So Preet Bharara debuted on CNN this morning and it was a doozy.
---
EARN EXTRA CASH FROM HOME!

Disclaimer:  Everything written in this publication is the opinions of the writer and not that of the sponsors, advertisers or this publication.