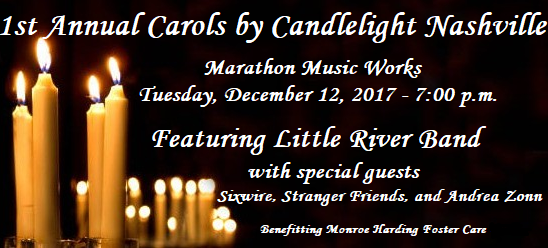 The perfect way to spend a December night and help make somebody else's Christmas a happy one
Little River Band and friends present Christmas Concert benefiting Monroe Harding Foster Care
Nashville, Tennessee (November 9, 2017) – Little River Band is proud to announce a partnership with Foster care organization Monroe Harding. LRB and friends, special guests Sixwire, Stranger Friends (John Martin & Jamie Floyd,) and Andrea Zonn are lending their musical talents to present a holiday concert on Tuesday, December 12, 2017 at Marathon Music Works in Nashville. Tickets for this benefit show can be purchased at Ticket Fly or directly from the Marathon Music Works website by clicking this link. Tickets range from $15-$75. So Little River Band and friends present Christmas Concert benefiting Monroe Harding Foster Care
Little River Band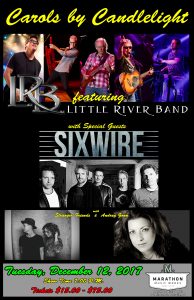 LRB is known for iconic hits like "Cool Change," "Reminiscing," "Lonesome Loser," and "The Night Owls.  Also know for "Take It Easy On Me," "Help Is on Its Way," Happy Anniversary," and "We Two."
How about "Man On Your Mind," "The Other Guy," or "It's A Long Way There?"  LRB is also known for their caring hearts and giving back when and wherever they can.
Carols by Candlelight Nashville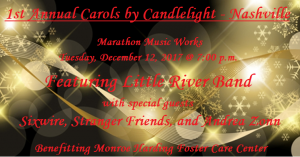 Little River Band has hosted Carols by Candlelight concerts in numerous cities for more than a decade. This particular event is being dubbed the 1st Annual Carols by Candlelight – Nashville. It is the first time the band will bring the event to Music City. All proceeds from the concert will benefit Monroe Harding and their services for children and youth in foster care.
Monroe Harding had this to say about the upcoming event:
"We are thrilled that the Little River Band has chosen Monroe Harding as their community partner for such a special event," said Sarah Brock, Monroe Harding's Marketing & Community Relations Manager. "The holidays can be a particularly difficult time for children in foster care. We appreciate Little River Band, and all the artists, raising awareness for those in foster care and celebrating their spirit with beautiful music."
Little River Band's Wayne Nelson
Little River Band's lead singer Wayne Nelson said,
"Christmas should be a special time of year for kids and families. Sadly there are some forgotten kids that have neither. Monroe Harding has been caring for those kids for over a century. Let's help them continue their great work!"
For more than 120 years, Monroe Harding has continually adapted to meet the needs of more than 16,000 children. These youth in Tennessee who have been abused, abandoned or neglected. They provide services to children currently in foster care. Additionally they help those who have aged out and still need support and guidance toward independence. Find out more at www.monroeharding.org.
SIXWIRE
About Sixwire: Sixwire's first Warner Brothers release debuted in the top 30. That spawned the chart hits LOOK AT ME NOW and WAY TOO DEEP. Touring followed with artists like Tim McGraw, Kenny Chesney, Martina McBride, Phil Vassar, and others. When Sixwire departed Warner Brothers, some of the band members served as the house band on USA Network's NASHVILLE STAR for 3 seasons.
Next Sixwire was chosen to be a part of FOX Network show called THE NEXT GREAT AMERICAN BAND. The three-month filming schedule required a temporary move to Los Angeles for the quintet, and established a larger nation-wide following than Sixwire's prior exposure from country radio.
MORE TV FOR SIXWIRE
Finally, Sixwire returned to Nashville to become the house band for CMT's CAN YOU DUET for two seasons. American Idol producer recruited Sixwire to serve as house band on their new show CMT's NEXT SUPERSTAR.
That led to a call from ABC and LION'S GATE to be backing band for character 'Rayna Jaymes' played by actress CONNIE BRITTON on ABC's 'NASHVILLE'.
TV SHOW NASHVILLE
Sixwire was regularly seen with Britton, and also with co-star CHARLES ESTEN who plays the character 'Deacon'. Esten befriended the band, and asked Sixwire to join him on tour, which sometimes also features actress CLARE BOWEN ('Scarlett O'Connor' on 'Nashville') and other cast members. 'NASHVILLE' is currently in its 6th season, and airing on its new home, CMT Network. Sixwire is currently recording a new studio album.
STRANGER FRIENDS
About Stranger Friends: If you combine two independent songwriters, one with a Grammy nomination and the other with multiple Garth Brooks cuts, then mix in an original 10 song soundtrack they wrote for the upcoming feature film, Dog Years, starring Burt Reynolds and Ariel Winter – you would have Nashville's newest duo, Stranger Friends.
John Martin and Jamie Floyd create an intimate West Coast sound rooted in vintage country music delivered with a modern style. Through laid back, rootsy arrangements with lyric driven, classic songwriting and a vulnerable approach to vocals/harmonies, Stranger Friends sound invites you in to be a part of their uncommon story.
ANDREA ZONN
About Andrea Zonn: Andrea is a profoundly prolific singer songwriter and phenomenal musician. Andrea's years on the road as a fiddler and harmony singer for James Taylor, Vince Gill, and Trace Adkins. She's the first to tell you how much she values working for them. But on "Rise," Zonn's second album as an artist, they're supporting her.
Her good friends worked on her last CD project are Taylor on harmony vocals, plus country legend Gill. Also lending extraordinary talent was modern day blues master Keb' Mo' singing and playing guitar, and dobro star Jerry Douglas, Newgrass-founding mandolinist Sam Bush, list, current Doobie Brother John Cowan, and multi-award winning musician Mac McAnally.
For more about each artist, visit their respective websites.
Little River Band, visit www.LittleRiverBand.com
Sixwire, visit, http://www.sixwireonline.com/
Stranger Friends visit, www.facebook.com/strangerfriendsband/
Andrea Zonn visit, www.andreazonn.com/
To purchase tickets to this event, click here!