General Hospital Robin Mattson channeling Baby Jane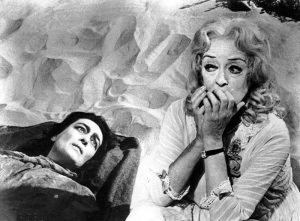 General Hospital Robin Mattson channeling Baby Jane gave the lunch crew at The Daily Banner a fright today during her scene with Franco.  It was as if she was channeling Bette Davis in that infamous film, What Ever Happened to Baby Jane.
If you know the film then you know what the lunch crew was talking about. Is this superb acting from Robin Mattson or is it something else?  Is the actress experiencing some health issues that have not either been diagnosed or that are not being spoken about?
It looked as though she was having trouble speaking and her facial expression were certainly strange.   No matter how you look at it, it was surly a pretty weird scene and nobody pulls off weird like Robin Mattson, a/k/a Heather Webber.  This is one of those movies that haunts you for the rest of your life.  If you have never seen this movie before, make sure you don't see it alone or with your sister.  Wow, this really fits the Hayden & Elizabeth story-line right now.
---
VALLEY VIEW
Get a sneak peek at what is happening at Valley View:   If you do like romance and intrigue, this is the place for you.  ENJOY!!
EXTRA CASH

Looking for ways to make extra cash? Make extra cash while watching TV.  Take surveys with MintVine. They will deposit money right into your PayPal account.  Click the link to start.  https://mintvine.com/users/register/5266f23a8ec2a448530101
SOAP OPERA ORACLE now has a FACEBOOK page.  Like us on Facebook!!
Writer Donna Nolan-Wilson has spent over 40 years living, loving and writing. Like her on Facebook
Disclaimer:  Everything I write in this publication is my feelings and opinions and not that of the soap, the sponsors or this publication.